Personal and collective evolution move along a spiral. For understanding matters I'll address it as if it was going up and down even if it is definitely not a linear spiral and up and down have no sense out of a space-time continuum.
Being familiar with the Fibonacci sequence can help this understanding so if you're not familiar with those numbers you might want to give them a look here.
Lets say that there is a "Special Zero Point" where two spirals meet, one that goes up starting from "Zero" and one that goes down starting from "Zero". The one that goes "down" is in a separation path, the one that goes "up" is in a Union Path. Other similar "small zero pints" are found at every Jump Node, where in order to move from one ratio (consciousness field) to the other something must happen first.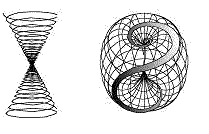 There's no right path. There's only experience, but understanding it's quantum field might help in understanding the way our experiences happen and evolve, weather in one way or in the other.
Now lets say we start from the Zero Point in between the two spirals. That is a Big Choice point where one can ponder in which direction it wants to move on. That is also a Point Humanity reached in the Big Unified Consciousness as so many choose the "upward path".
From there on the way consciousness evolves is in a way that is encrypted in the Universal Law, which means one can choose to go "up", "down" or move in circles, but it is not allowed (in our Universe at least) to break this Golden Rule.
From Zero Point on, once the decision of where to go has been taken, the Uni-Verse moves in order with that choice and provides the Being with the needed experiences. Once the experiences have Been Lived and understood a "jump" happens and the Consciousness moves to the next level.
Now comes the interesting part of it. The way Consciousness moves on is by following the Golden Ratio (or Divine Ratio), one of the reasons the Fibonacci numbers are so important and found everywhere in nature and in the Uni-Verse.